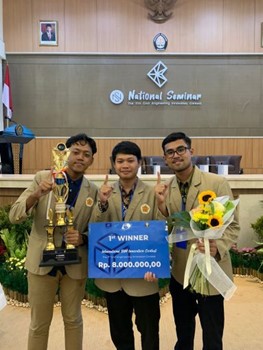 Gadjah Mada Building and Bridge Community (GMBB) has been crowned the winner of the International BIM Innovation Competition (IBIC) in the Civil Engineering Innovation Contest (CEIC). IBIC is an international competition for all students from tertiary institutions that provides the opportunity to develop a better understanding of the Building Information Modeling (BIM) concept. The idea was to get students to compete in creating an 11-story building model with an area of 18,000 m² using Building Information Modeling (BIM) which includes building modeling (architectural, structural, MEP), structural analysis, material volume calculations, and cost budgeting calculations.
The Gama-Ian team from GMBB consisted of Muhammad Febrilian Kurnia Putra, Aldhytian Surya Arthaka, and Filipus Alfiandika Nugrahadi, with Ir. Ashar Saputra, ST, MT, Ph.D., IPM., ASEAN.Eng. as a supervising lecturer. This team successfully outperformed the other 28 teams in the competition, the Gama-Ian team qualified as a finalist along with 4 other finalist teams from the State University of Jakarta, Diponegoro University, and Sepuluh Nopember Institute of Technology.
The competition began with a proposal writing project starting from 9 March to 9 April 2023 and continued with the final stage from 3 to 6 May 2023 at Diponegoro University, Semarang, Central Java. The Gama-Ian team sought to deepen their BIM understanding by participating in this competition. This is because BIM is currently utilized by many state-owned enterprises in Indonesia, and thus keeping up with the development is important. The key strategy built by the team during the competition was to have good communication between members and the supervisor. Moreover, clear workload distribution and maximizing collaboration with BIM to make remote work possible were carried out. Support received from friends also contributed to the team's success. Nevertheless, there was still a struggle faced by the team in this competition, such as building a quite complex model within a relatively short time frame.
Author: Fela
Translator: Qonita