UGM team once again achieved international accomplishment in Shell Ideas360 event. The team named Smart Car MCS consisting of Herman Amrullah (Chemical Engineering), Sholahuddin Alayyubi (Chemical Engineering) and Thya Laurencia Benedita Araujo (Chemical Engineering). As the only representatives from Indonesia, they won first place by beating 4 other world finalists from American University of Sharjah (UAE), University of Texas at Austin (USA), University of Bordeaux (France), and University of Melbourne (Australia).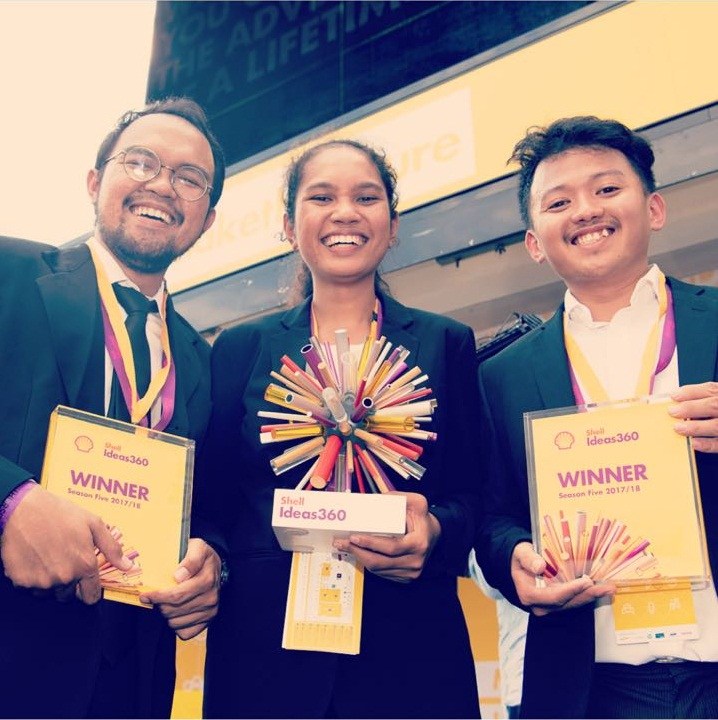 This prestigious competition was hosted by Shell multinational corporations and held in London on Thursday 5 July 2018. The Smart Car MCS team successfully achieved two categories at once, namely the Judges Choice and Audience Voice with the idea of ​​developing a smart car that can treat plastic waste into fuel with low emissions.
Previously, this UGM team had to compete in several stages with 3,336 university student teams from 140 countries of the world in developing new innovations. Of all the finalists then selected the best five teams to advance to the final stage in London presented the proposed innovations.
"Thank God we can win this competition and win two categories of competition," said Herman, when contacted on Friday 6 July in London.
Herman said they did not think to win Judges Choice. Especially with the formation of teams who are all undergraduate students. While the other three finalists are master program students and one finalist is a double degree student who became the winner of this competition.
"Viewed from educational background, we are still below them and they are tough opponents indeed. Therefore we do not expect to win "he explained.
The UGM team, supervised by Hanifrahmawan Sudibyo, S.T., M.Eng., and Yano Surya Pradana, S.T., M.Eng., won the title by designing a car capable of processing plastic waste into fuel by utilizing exhaust gas.
This idea originated from their concern about the big amount of plastic waste in the environment. Although plastic waste can be converted into fuel, but to convert into fuel requires a lot of energy.